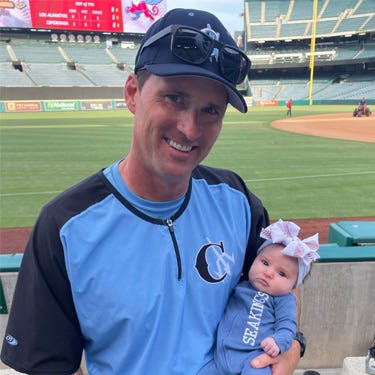 Kevin McCaffrey
Athletic Turf Management Teacher // Corona Del Mar High School
2023 Class of Pioneers in the Field
Many career paths are straight and narrow. Step one, excel in high school. Step two, get accepted into a college. Step three, put in four to six years of schooling. Step four, take an internship. Step five, graduate and start that first gig at the bottom of the ladder. The sports turf industry is unique in a number of ways, including its various points of access.
The route to sports turf for many of us can be curved and littered with forks in the road. For Kevin McCaffrey, his route to sports turf started after 20 years as a baseball coach and teacher. The major fork in the road that led McCaffrey to sports turf was his love for baseball and starting a family of his own.
Kevin McCaffrey is the Athletic Turf Management Teacher and Baseball Coach at Corona Del Mar High School in Southern California. The Turf Kings turf program began after decades of McCaffrey working solo on the diamond for his baseball team. He was learning and perfecting the building blocks that would serve as the foundation for his turf course's curriculum years before knowing how he'd ever utilize them. McCaffrey said, "I had an Ah-Ha moment when my wife and I wanted to start our family. That Ah-Ha moment is the reason I petitioned for this class. I was putting in hours as the baseball coach taking care of the field. Often finding myself at the field all night or on the weekend by myself, ensuring everything looked good. I knew I couldn't maintain that pace and the idea for this class at our school was born. I needed help and a turf class was a great way to get that help while simultaneously teaching students important life skills. Now those hours I used to spend at the field alone are spent at home with my wife and daughter. And the field is managed and taken care of throughout the school week with a group of passionate students under my direction." An innovative solution to the challenge of time and resources for McCaffrey has become a rewarding route to sports turf that he never imagined for his career.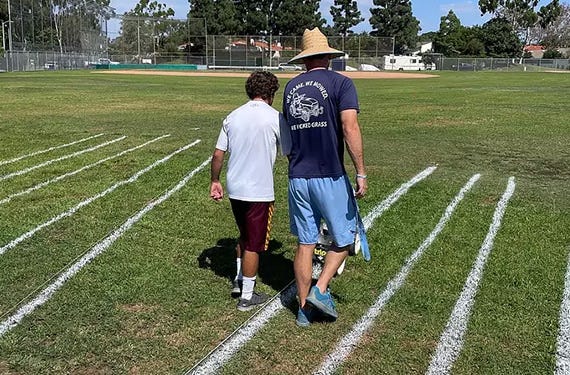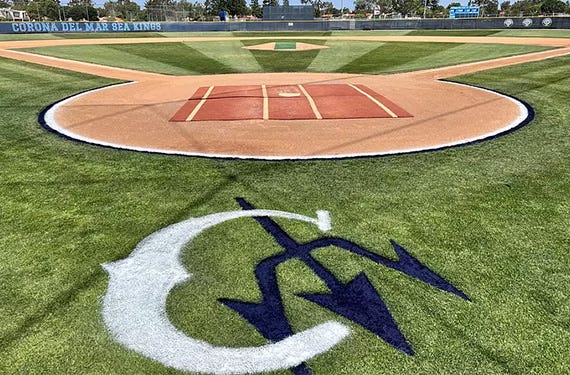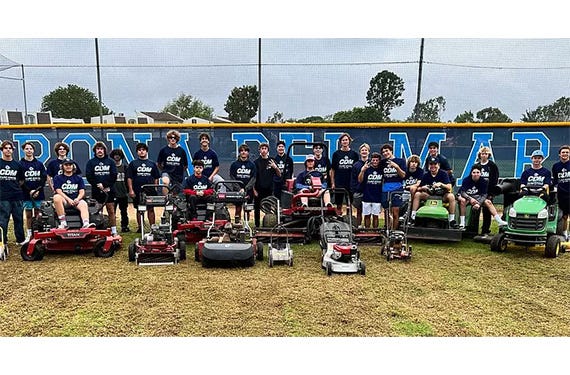 That initial desire to get the field looking right has evolved into a turf program that has left McCaffrey and his students inspired to leave their mark on the industry. McCaffrey has taken his passion for baseball and teaching to empower his students in a new way. When asked how mentorship plays a role in the turf program, McCaffrey said it tracks back to the nature of this industry, which is rooted in passion and mentorship. "Whether it's on the baseball field, in the classroom or on the field with the Turf Kings, I hope the students can feel my passion. I know we have something special because I trust them and they trust me, which you don't always find in a traditional classroom setting. But with this turf program it's become my mission to help students find the kind of passion I have for work and life. They have definitely bought-in to what we're doing here and the difference we can make."
That difference and impact is far-reaching. McCaffrey knows people at the school and in the community have noticed the success of the program. But, what really excites McCaffrey is knowing that the program could potentially have the most impact in the turf industry. McCaffrey said it's the people in this industry who made the program possible and to be able to give back in some way feels full circle. "The people in this industry have completely lifted us up, from simple retweets on Twitter to our local golf superintendent, Jim Fetterly, helping us with equipment and repairs. When I initially thought about pitching this program I reached out to Drew Miller, Brentsville High School Turf Program Director, and Russ Beyer, South Forsyth High School Turf Management Program Director, for guidance on where to start. Those gentlemen, and everyone who has taken an interest in our program, have made this experience truly exciting. I light up anytime someone in the industry reaches out to let me know they love seeing kids keeping this industry alive. I quickly learned the industry's desire to see this program and other programs like it to succeed. Industry professionals will do anything to instill the passion they already have for their career into the next generation. My ultimate goal or wish for the program is to have students walk away with the knowledge of how to take care of athletic fields. I hope a few of them will even develop a desire to turn this passion into a career and refuel the industry's labor force."
McCaffrey said he enjoys sharing his experience with the next generation on Twitter and in the community because it's refreshing to see these kids have something to look forward to or work towards as a team. McCaffrey said, "it's a tough world for these students right now, especially after everything they went through with COVID and missing so much school. I think real world experiences like this turf management class is exactly what students needed to get back on track. They're learning life lessons while being part of a team.
They truly buy into what we are doing here, and that's so refreshing. When we are in season and the rye grass is pumping and our students get the chance to implement their mowing patterns and what they've learned all year, it's inspiring. If everyone had the chance to see that and how these kids conduct themselves, we wouldn't question the need for more courses like this for the next generation."
The list of what a groundskeeper is up against each time they take the field is endless. Throw 30 high schoolers into that mix and you quickly realize it takes a special type of groundskeeper to accomplish the type of job facing leaders of turf programs. Special is exactly how Mike Gerakos described his long-time colleague and friend. Gerakos and McCaffrey have been coaching baseball together for over 15 years. Gerakos said it was one week into his retirement when McCaffrey convinced him to come out of retirement and follow him to coach at Corona Del Mar. Gerakos said it takes a special kind of role model and coach to accomplish what McCaffrey has in the first two years of the program. Gerakos reflected, "back at university schools, before we came over to Corona Del Mar, Kevin was challenging himself with a new skill every week to improve the field. To see him go from a one man band, perfecting his skills, to creating a program that empowers students to take ownership over the field, their team and their school is only made possible because of the type of man Kevin is."
Empowerment and leading the way for the next generation through turf is what McCaffrey says is the most rewarding element of the job. Gerakos says it's what McCaffrey was destined to do with his life. Gerakos said, "to say our youth is in good hands under the direction of Kevin is an understatement. Kevin GETS IT. He is a highly energetic and engaged role model that leads in a straightforward, positive and challenging way. He is the definition of leading by example because he is a relentless, passionate individual who is not only a slave to his field but also an exceptional father and husband. There are two places where I envision Kevin in his happiest state and that's on the baseball field with his students and at home with his wife and daughter. He's cracked the code because this program gives him the best of both those worlds."
|||||||||||||||||||||||||||||||||||||||||||||||||||||||||||||||||||||||||||||||||||||||||||||||||||||||||||||||||||||||||||||||||||||||||||||||||||||||||||||||||||||||||||||||||||||||||||||||||||||||||||||||||||||||||||
Kevin McCaffrey has dedicated his career to inspiring kids on the baseball field with turf, so that he can raise the next generation at home. McCaffrey reflected on his legacy, his mentors, and the people who have made it all possible. McCaffrey said, "I'm extremely thankful for the support of our administration. I went into this pitch presentation fully expecting to be shut down, only to have Josh Hill meet my requests with full support. He has been a champion for this program, immediately recognizing it as a great option for our non AP kids. Outside of the office, I have to give my wife a shoutout because her support fuels everything in my life. Because of her I can be out on the field, coaching these kids and then come home and spend time with her and our daughter, Marlee. It's a bit of organized chaos, but I'm truly living the dream."
With only two years officially in the turf industry under his belt, McCaffrey is making a long-lasting impact on our industry. It's clear that students with a Turf Kings origin story are lucky to have McCaffrey leading the way.
|||||||||||||||||||||||||||||||||||||||||||||||||||||||||||||||||||||||||||||||||||||||||||||||||||||||||||||||||||||||||||||||||||||||||||||||||||||||||||||||||||||||||||||||||||||||||||||||||||||||||||||||||||||||||||||