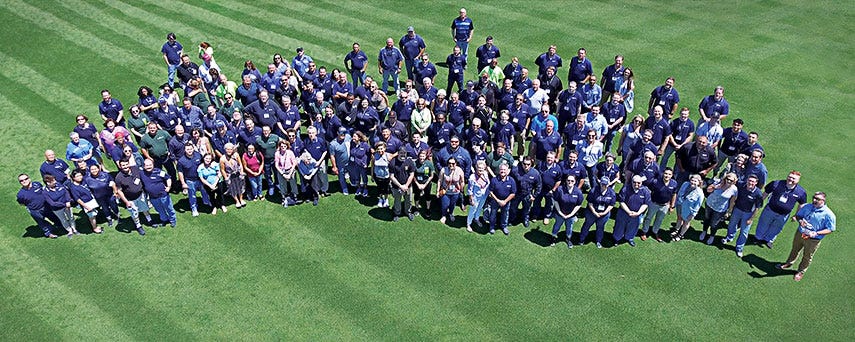 Pioneer Athletics, a Cleveland, Ohio strong hold since 1905, is the nation's leader in Athletic Field Marking Paint and Field Maintenance Equipment. We lead the Sports Turf Industry with creative innovations, forward thinking and cutting edge technology.
Our high quality products for natural and synthetic turf athletic fields have led to over 18,000 customers worldwide! We work with Universities, High School, Parks & Recreation Departments and hundreds of Professional Sports Teams in the U.S., Canada, Europe, and Asia. Pioneer Athletics has become the #1 resource for professionals in the Sports Turf and Athletic Field Maintenance Industry.
At Pioneer Athletics, we invest in our associates and we are committed to their personal and professional development. We believe in fostering professional success and mentoring our associates in a stable, personalized and structured environment.
Our associates represent the front line of our strong customer base and we believe their training should reflect the strength and determination that makes Pioneer Athletics successful.
Pioneer Athletics is always looking for people who want to wake-up excited about the work they are going to do everyday. We want people who believe in continually developing and shaping their professional talents and who understand that application breeds achievement and accomplishment.
If you are interested in working for a family-oriented company that values the development of their associates, respects the strength of their character and will assist them in making an impact, then Pioneer Athletics is looking forward to hearing from YOU!
Thank you,
Pioneer Athletics
EOE
---
History
The Beginning
The story of Pioneer begins in a modest, one-room office in downtown Cleveland in 1905. On the backs of four businessmen, Pioneer began as a specialty products company that developed conditioning powders and ligament oils, along with an extensive line of greases, paints, linseed soaps, oils and oil-based products.
Within one year, Pioneer began what would be almost 20 years of explosive growth, thanks to the advent of two new products: Sweeprite (dust absorbent) and Shino Polishing Cloths. Because of such tremendous earnings, Pioneer had to move locations several times in order to keep up demand.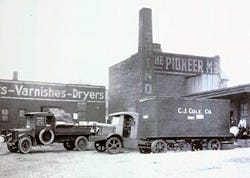 It would be during this time of growth that Pioneer would open the door to a promising new market: Industrial Sales. Although the company had been selling paints and varnishes to industrial plants, the 1919 acquisition of the William Bulger Varnish Company would provide the catalyst for major growth in this area. In direct contrast to most companies during this time, Pioneer continued to grow through the Depression years.
The 1940's and 1950's saw the further development of Pioneer as a sales-driven company, as numerous Pioneer products were sent overseas to help the Allied Offensive. With the American economy booming after the end of World War II and the industrial climate changing, Pioneer continued to expand its product line with new disinfectants and cleaners added to help meet the demands of the growing nursing home field. A developing aerosol line appealed to these and other customers who sought speed and convenience.
Middle of the Road
In the mid-1970's, Pioneer began to solidify its position as a leading supplier to the health-care related field. During this period, a formal training program was established which would greatly increase the success of Pioneer's sales force. A new major market would also open up at this time and it would eventually lead to Pioneer's greatest success: Athletic Field Maintenance.
This market helped to catapult Pioneer's Brite Stripe athletic field marking paint into the company's best-selling product! The Pioneer Sales Force was encouraged to paint America's athletic fields from one end of the country to the other. Over thirty years later, Pioneer is the #1 supplier for athletic field maintenance and Brite Stripe is still Pioneer's highest selling product.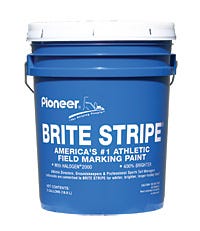 In the 1980's Pioneer grew stronger than ever through several successful acquisitions. Reliance Chemical became the first to join Pioneer in 1984. Reliance had a long and distinguished history in the Cleveland area and was a major supplier of industrial and commercial accounts with such products as Cleaneze and Super Solv-O-Mist.
Just three years later in 1987, Pioneer acquired the assets of another Cleveland industrial maintenance supplier — Randustrial. With two new companies under their wing and facilities all over northeast Ohio, Pioneer had the opportunity to consolidate operations and bring warehouse facilities, paint production, operations and inside sales together under one roof. In 1990, Pioneer constructed a brand-new 68,000 sq. ft. building on Cleveland's west side and finally had the entire company under one roof.
With the new building complete, Pioneer brought in Revere Products in 1992. Revere offered numerous industrial roofing and flooring repair materials and supplies, along with their best selling product - RIM®
The Present
The additions in the late 1980's and early 1990's carried on through the remainder of the decade and into the new millennium. Pioneer expanded and improved their athletic field maintenance product line, adding additional paint colors and accessories.
With newer and better paint and stripers being created almost yearly, Pioneer catapulted itself to the top of the athletic field maintenance market, attracting collegiate and professional athletic teams and becoming their new supplier. In 2004 Pioneer acquired Suntec, a Florida company that specialized in paint that was particular to the environment in the southeastern United States.

With athletic field maintenance professionals seeing the amazing results of Pioneer's super bright and long-lasting athletic field paint week after week, Pioneer has acquired over 18,000 accounts in the market, with many more being added everyday.
Pioneer's future is bright and with a constant focus on providing our customers with the best products and the best service, Pioneer will continue to be #1 among athletic field professionals, grounds crews, athletic directors, coaches and maintenance supervisors.
---
More About the Field Sales Position
Field Sales Job Description
Field Sales Representatives are responsible for the sales activity between the customer, possible prospects and existing customers in their assigned territories.
The Field Representative is responsible for carrying out the policies and objectives of Pioneer, as well as, the specific profit objectives assigned by management. A Field Sales Representative will:
Work with professional athletic organizations, collegiate & high school athletic departments as a member of the #1 Resource of Professionals in the Sports Turf and Athletic Field Managers Industry.
Assist athletic directors, coaches, stadium managers, groundskeepers, Parks & Recreation directors and maintenance supervisors as they make important decisions regarding the design and layout of their athletic fields.
Make a sufficient number of appointments each week, with a minimum number of product presentations expected on new prospects and existing customers.
Prospect and screen potential customers
Obtain a company average of new customers weekly
Submit orders and reports on a daily basis
Maintain individual daily, weekly and monthly schedules
Field Sales Job Expectations
We are looking for skilled individuals who have the drive and determination to work hard for their success and want to reap the benefits of their accomplishments. Each of our Field Sales Representatives is a trained specialist in athletic, stadium and industrial maintenance.
You will work closely with a mentor and a Professional Sales & Product Training Staff in a stable, personalized and structured environment. Our Representatives help drive our company forward and keep us on top, which is why we put such a strong emphasis on sales training.
Your training does not end after a month; it continues on throughout your career at Pioneer. Along with your continual training, a Field Sales Representative can expect:
Supportive Management
Supportive and Open Home Office
Daily & Weekly Communication Support
Immediate Profits
Repeat Sales Opportunities
Established & Secure Territories
Salary + Expenses
High Commission - No Ceiling
Continual Sales Promotions
Field Sales Job Requirements
Candidate must have a minimum of one year of experience handling sales, with knowledge in account development, account maintenance and product programs.
Due to some physical requirements, Field Sales Representatives must:
Be able to lift up to 50 lbs.
Climb ladders and stand in places high off the ground, such as; roofs, bleachers and press boxes
Stand for long periods of time
Have reliable transportation

EOE
---
Field Sales - Compensation & Benefits
As a Pioneer Field Sales Representative, you can be confident in knowing that you will be receiving a compensation program and secured territories, so you can focus on your customers. Your earnings will reflect a competitive market pay scale and is based on your production – THERE IS NO INCOME CEILING!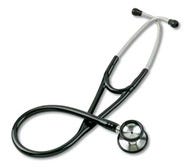 Benefits:
Medical Insurance
Prescription Coverage
Health Reimbursement Account
Dental Insurance
401(k)
Flexible Spending Account
Life Insurance
LTD Insurance
Vision Insurance
Expenses
Generous Commissions
Monthly & Annual Bonuses
Incentives
Paid Vacations

Rewarding achievement is a way Pioneer shows our appreciation to our Sales Representatives, so in addition to generous commissions and incentives, you will also be honored for your results with special bonuses, awards and other forms of recognition.
Outstanding Salesperson of the Year
Outstanding New Salesperson of the Year
Salesperson of the Month
Salesperson of the Quarter
Quota Bonus Club Award
Achievement Award
Outstanding Performance Award

Each spring, we bring our fiscal year to a close with our Annual Sales Meeting. This opportunity gives us the chance to bring all of Pioneer's Home Office Staff and Inside Sales Force face-to-face with our Field Sales Representatives and toast the achievements and accolades that were accumulated over the year.
Field Sales - Support & Network Training
Pioneer's Home Office in Cleveland, Ohio works diligently to help our Field Sales Representatives every step of the way. Whether you need assistance from one of our great Customer Service Representatives, work with Order Processing to get the right product out or you need to get a hold of a member of management, there is always someone at the Home Office who will lend you a hand. Within Pioneer's Home Office you will find these departments:
Accounting
Customer Service
Facilities/Warehouse
Human Resources
Inside Sales
I.T.
Marketing
Order Processing
Purchasing
Receiving
Sales Support

The reason our Field Sales Representatives are so successful has much to do with the extensive and personalized training they receive. Each of our Field Sales Representatives are teamed up with a senior member of our sales force and go through the various stages and steps involved with their training. Every few months, our Field Sales Representatives return to the Home Office and attend various seminars and training sessions that keep them up-to-date on Pioneer's newest products and the latest techniques in order to stay effective within a growing market.